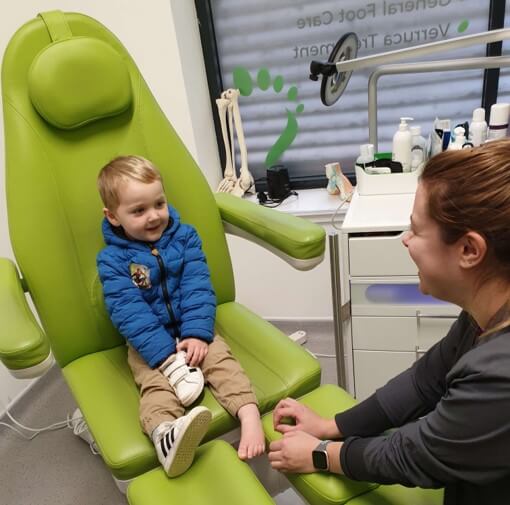 Children's Feet
Few people are born with foot problems but they can develop from a young age!
Podopaediatrics is the specialisation of managing children's foot conditions. If you are worried at all by something that you don't feel is quite right with your child's feet - don't hesitate, come and see us. Even if it is just to put your mind at ease, we will endeavour to put your child's needs first. After all at Adam Smith Podiatry and Healthcare - family comes first.
The most common query about children's feet we get is about foot shape. It is perfectly normal for your child's feet to be fairly 'flat' and also quite mobile. The bones in the foot aren't fully formed until the age of 18 when the growth plates 'close'. But the foot generally has a similar appearance to that of an adult from the age of 6 or 7 years old.
Indeed, as a result of these changes and alongside muscle strength, coordination and ligament laxity the way a child walks changes quite dramatically from birth to the age of 6. Check out our milestones below and if you are worried by anything with your child's feet, come along for a chat with one of our podiatrists.
GET IN TOUCH GET IN TOUCH BOOK NOW BOOK NOW
Walking Mile Stones
Age 1-2
A short 'stompy' walk with a wide base for stability.
The feet, knees and hips are turned out.
Is able to run and jump and climb stairs 2 feet at a time.

Age 3-4
The base width has reduced and stride length has increased.
Is now able to hop and balance on 1 leg and can climb stairs 1 foot at a time.

Age 5-6
The base has now decreased to that of an adult with more fluidity and coordination.
Greater level of propulsion.
Is able to skip.